Our Governors residential project in Lewes, DE is a prime example of our investment philosophy, design approach, and expert execution in action. JLAM carefully designed this project to create a residential community that our residents, our team, and our investors are proud to be a part of. Not only did we foster hundreds of new relationships between neighbors, but we delivered outstanding returns for our investors. Read on to learn how!
The Governors residential development highlights all of the advantages that JLAM brings - how creating an outstanding living experience, where people are proud to live, can produce an excellent return on investment.
From our initial analysis, we believed market conditions were such that home buyers would pay a premium for a community in a premier location and there would be significant demand for higher density townhomes and smaller single-family homes.
We knew that our philosophy of Differentiated Assets needed to be taken to the next level in order to maximize our competitive advantage and that we needed to create something extraordinary with this community. To do that, we started with the overall site plan, incorporating two home types, an organic road network, and numerous pond-front or wooded home sites.
With a deep knowledge of the property prior to purchase (JLAM led the years-long entitlement process), we utilized a variety of features to our benefit - we leveraged the mature tree line and natural topography, coupled with the addition of numerous ponds, to create an organic land plan offering both single family and townhome units. We also carefully selected the community's builder to ensure the architecture and product aligned with the overall community vision.
We then designed and delivered an over-the-top amenity package which includes a luxury clubhouse with an awesome great room/bar and indoor/outdoor space, fitness center with yoga room, swim-up bar, lazy river, resort-style pool, kids splash park, and pickleball courts. All of these features provide countless opportunities for our residents to make new friends and build lifelong relationships!
The overall feel of the development is very upscale, leading to our trademark feeling of pride of ownership. In our article How JLAM Manages Risk in Turbulent Markets, we note that "The first step is…identifying projects that are hard to duplicate. Location matters, so we look (for) strong growth potential and where people want to live…Picking the right projects means… asking ourselves, can we create something special here, and is this a place we would like to live?"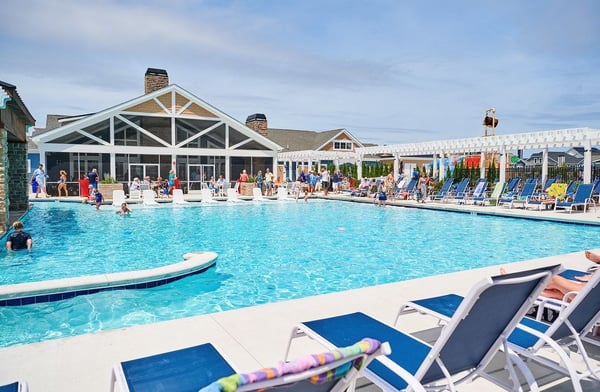 Key to setting the project up for success was applying a number of tools from our risk management framework and our agile investing model to the contractual relationships and capital structure.
We structured the land purchase over several years, thus limiting land exposure and reducing carry costs. We also negotiated the lot takedown agreement with the community's home builder to provide for a significant contract deposit (to ensure the builder's performance and offset risk) and upside participation through lot premium and price appreciation sharing (to capture additional upside).
We executed this deal with no leverage which ensured that we had maximum flexibility to adjust to potential changes in market conditions and put equity holders in a senior position.
In our blog The Flywheel, we highlight the importance of creating a place where people want to live and the positive momentum gained from achieving this. As noted above, we relied on our expertise and market analysis to optimize the project's site plan and tailor the product offering and amenities to ensure we created a truly differentiated living experience. The result of the product positioning and price point delivered a sales pace of over 100 units per year in the first three years which significantly exceeded our initial projections. There were countless stories of happy residents bringing their friends in to buy a home in this great new community. Our builder sold faster, and captured higher pricing than expected - both helping to deliver superior returns for our investors.
If you are interested in more details on this project, you can download the case study by submitting this form.