At Jack Lingo Asset Management, we take pride in investing and developing places where people want to be. We do this by focusing on differentiating assets because we believe satisfied homeowners, residents, and tenants drive results for our investors.
By utilizing and continuing to refine this flywheel philosophy of real estate investment, we have developed a strong track record extending more than a decade. Often, we're asked by potential investors and partners who'd like to get these attractive returns, "How do I partner with JLAM?"
Here we provide a step-by-step guide.
How can I invest in private real estate opportunities?
To invest with us, you need to be an accredited investor. According to the SEC, an accredited investor is generally defined as the following:
A person with a net worth over $ 1 million, excluding primary residence (individually or with spouse or partner).

Income over $200,000 (individually) or $300,000 (with spouse or partner) in each of the prior two years, and reasonably expects the same for the current year.
There are also investment professionals that can be accredited investors. These professionals must be:
In good standing holding the general securities representative license (Series 7), the investment adviser representative license (Series 65), or the private securities offerings representative license (Series 82).

Directors, executive officers, or general partners (GP) of the company selling the securities (or of a GP of that company).

Any "family client" of a "family office" that qualifies as an accredited investor.

"Knowledgeable employees" for investments in a private fund.
I am an accredited investor.
If you're an accredited investor and you're interested in partnering with JLAM, the next step would be to meet with Doug Motley, one of our managing principals. Motley has over 20 years experience in private equity, real estate and finance, and has led investments across all major real estate asset classes. Throughout his career, he's overseen the investment of more than $500 million in capital across multiple real estate investment strategies.
Motley has worked with our other managing principal, Nick Hammonds, throughout his professional career. Hammonds leads JLAM's operations and has over 20 years experience in private equity, real estate and operations. In his career, he has directed the development and asset management of significant multi-asset real estate portfolios across multiple market cycles.
Before forming JLAM in 2011, Hammonds and Motley co-founded a private equity real estate fund platform that invested in office assets in the mid-Atlantic and southeast US. They also founded and successfully exited a commercial construction firm.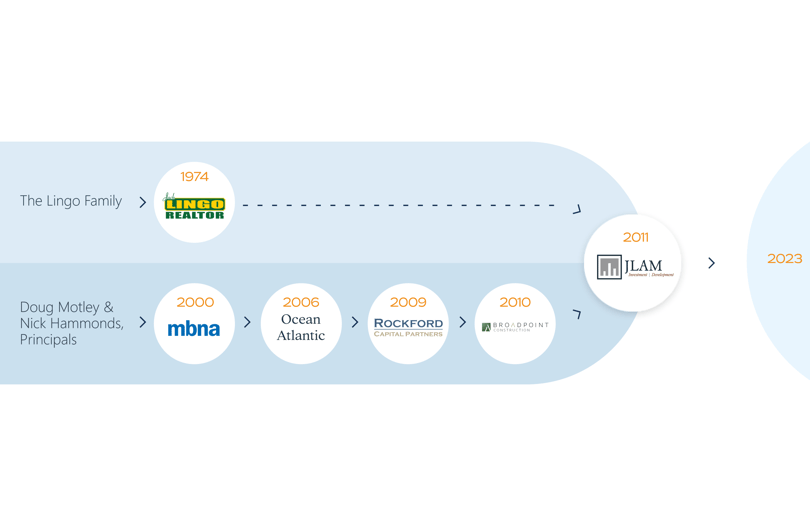 They partnered with Jack Lingo, one of the most trusted names in Delaware real estate, in 2011 to form Jack Lingo Asset Management. JLAM is a real estate investment and development firm that helps investors build wealth through private real estate investments. We develop and invest in commercial, multi-family, and residential real estate in the mid-Atlantic and Southeast regions of the US—the same ones both Hammonds and Motley have invested in for over 10 years. They leverage their intimate knowledge of these markets and industry experience to understand the right submarkets and these submarkets' dynamics, and the brokers, builders, and developers within these areas.
JLAM was carefully constructed to be an agile, flexible, and lean team that utilizes a suite of strong processes developed over many years. Although we're small, we pack a big punch because we invest heavily in people and infrastructure to provide partners our secret sauce. We combine the good aspects large firms offer with the agility of our structure to take advantage of opportunistic investments across market cycles. Through a consistent and surgical application of this approach, we have built an extensive track record of success.
Since 2011, we've deployed more than $400 million in capital and developed more than 2,500 lots and 1+ million square feet of commercial. Through this, our completed projects have delivered an average Net IRR over 19 percent, an average 1.9x Net Multiple, and zero losses.
After you meet with Motley, you'll know whether or not a partnership with us fits into your wealth-building portfolio.
What are the next steps if I want to partner with JLAM?
If you decide you'd like to partner with us, you join our system to be notified about our next private real estate opportunity. Typically, we have 3-5 hand-picked investments every year.
When JLAM has determined it will be moving forward with an investment, we share introductory materials on the opportunity. These materials are designed to introduce you to the deal and provide highlights of the investment. Throughout the process, we provide a great deal of transparency so you understand exactly what you are investing in.
After this, you need to choose if the opportunity is right for you.
I'm interested in investing.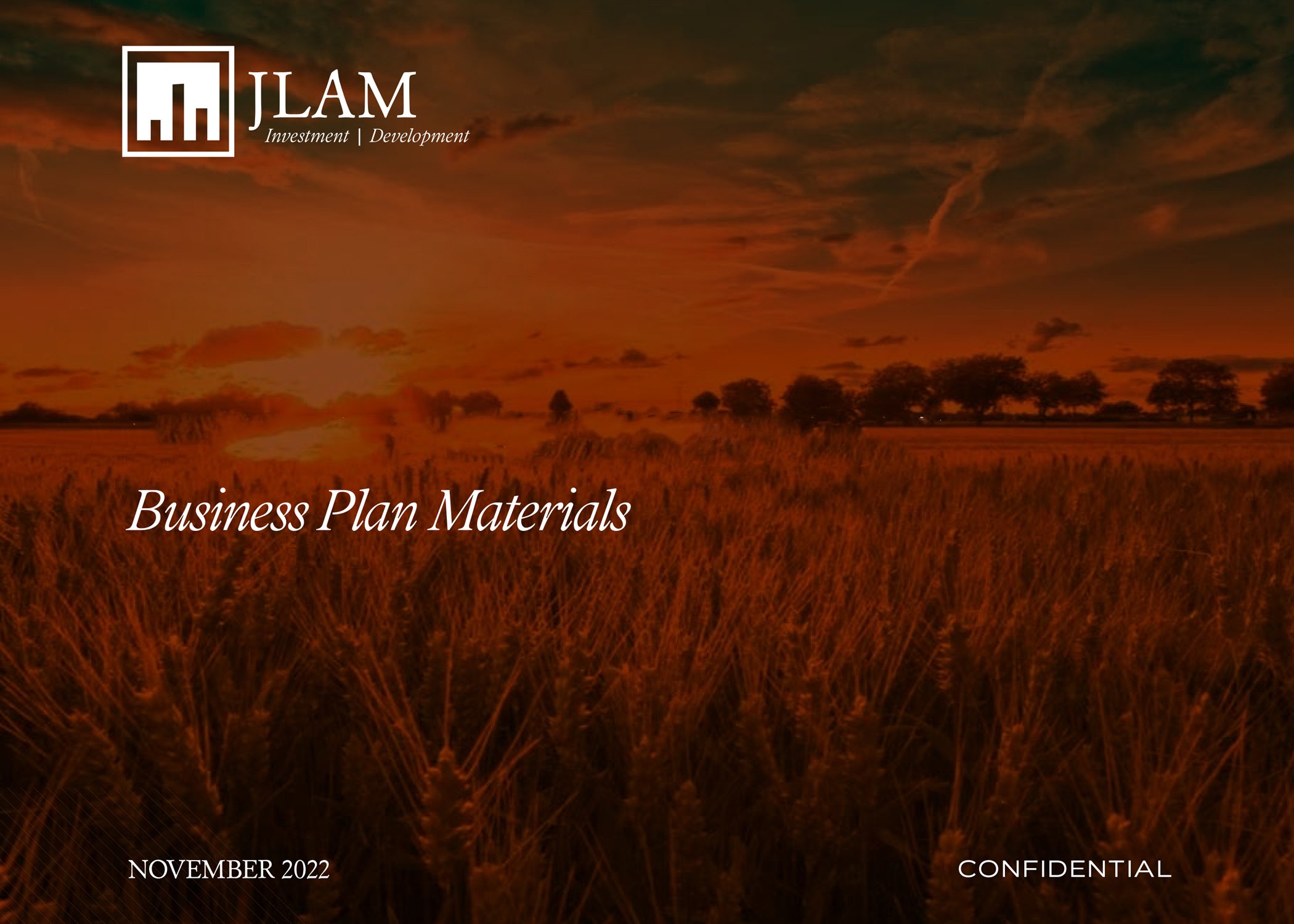 If you see an investment that excites you, we follow up with a comprehensive investment book. These presentations are designed to keep this as light a lift for investors as possible –we share our full analysis of the opportunity, market, business plan, and target returns. With this in mind, our materials clearly describe what your passive investment will be in, how it will be structured, and what performance you can expect. Our investment materials typically include:
An executive summary

Underwriting of the opportunity

A description of the deal structure and key terms of the investment

Property and area descriptions

A business plan for improvements to the property

A market and comparables analysis

Financial projections
Once you receive the investment book, usually you have about one month to review the book and decide if you'd like to move forward with the investment.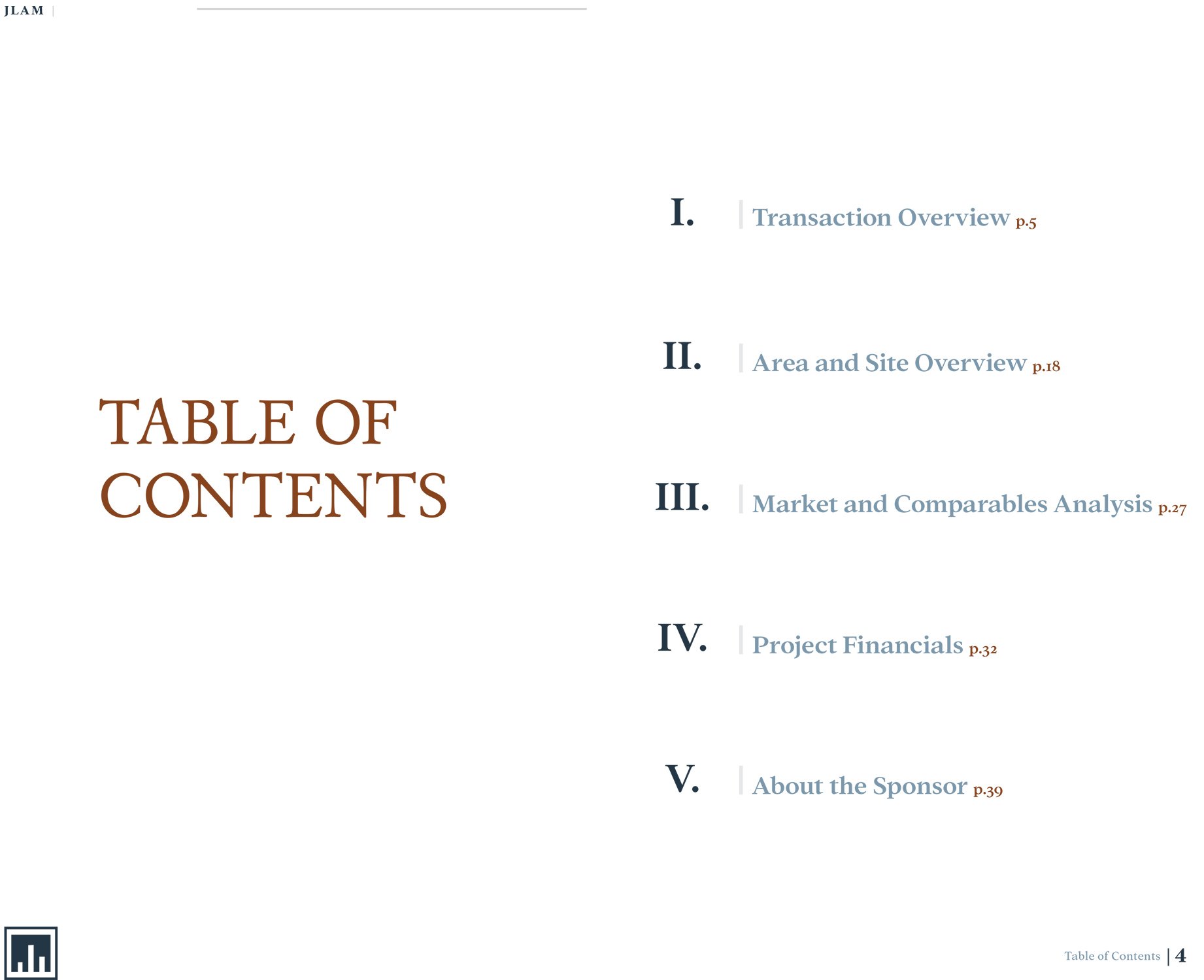 I read the investment book and I'd like to invest.
Once you've indicated you'd like to be involved in the opportunity, you need to provide your requested investment amount. On any given deal, we can have between 20-40 investors for $10-20 million equity raises.
After you've given us the amount you'd like to commit to the investment, you review and complete the subscription documents. This includes the private placement memorandum, limited partnership agreement, and investor profile questionnaire.
A private placement memorandum (also referred to as a PPM) is a document that "outlines the terms of securities to be offered in a private placement...[It's] a formal description of an investment opportunity written to comply with various federal securities regulations."
Next is the limited partnership agreement, which is between a general partner (us) and a limited one (you). The former oversees and runs the business, and they have unlimited liability for any business debts. The latter has no role in managing the business—their only role is to contribute capital to the partnership. (This means they have only limited liability up to their investment amount.)
Finally, you need to complete the investor profile questionnaire. Thomson Reuters describes this self-selection questionnaire is meant to verify information related to potential investors. This is the document where you affirm your accredited investor status.
We make documentation very convenient for our partners.
How do I access these documents?
We want to make our investments as clear, transparent, and easy to execute as possible, so they truly are passive for you. Therefore, we provide access to these documents through our investor portal. Within this portal, you can complete the documents through DocuSign. Also, our investor portal is similar to typical online banking, in that you have access to all your investment history with us all the time.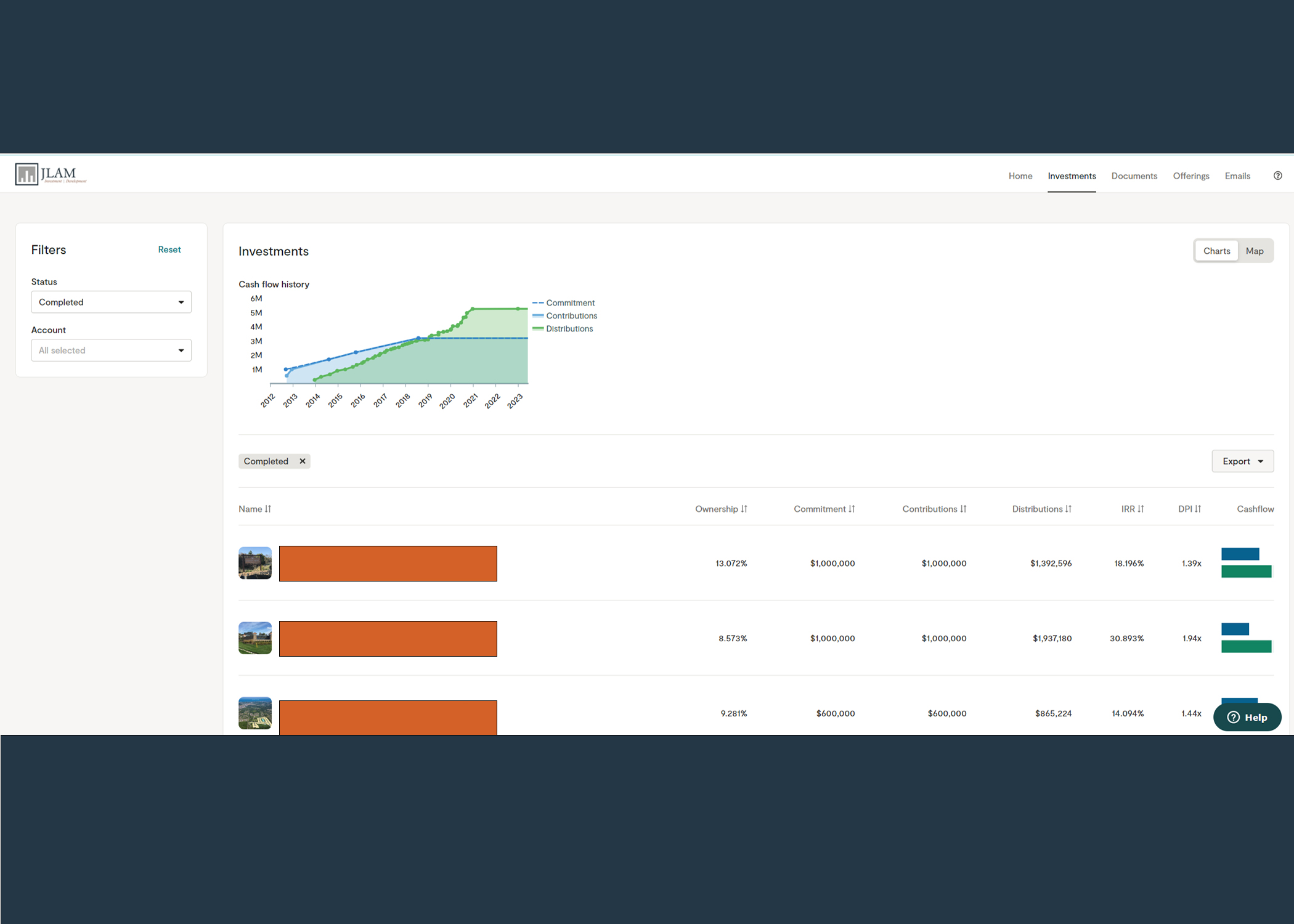 Once you sign the documents, you will receive a welcome letter shortly after entering the partnership. This welcome letter also provides guidance on when the first capital call notice will be issued.
What happens after I've signed up?
Normally, the first capital call is issued within the month you subscribe. During this part of the process, we provide instructions for when the money is due and how an investor makes the payment. Our accounting team handles our partners' money using the latest institutional-quality technology with meticulously designed controls which ensures every penny is tightly managed and accounted for.
Once the investment is underway, we regularly send two types of investor reports:
Narrative Reporting

- we discuss new milestones—and include videos and pictures—about the project.

Financial Reporting

- we provide updates about the investment performance.
Besides these two reports, you have direct access to our managing principals to discuss your investment. You can call, email, or text them whenever you have something you need to review or are interested in chatting about.
Similar to our reporting, distributions are done on a monthly and/or quarterly basis. This frequency depends on the investment type and cash flow from the asset.
At this point, there are several important things you also need to know on how to partner with JLAM.
What else should I know about investing in private real estate?
First, there is generally no liquidity in private real estate investments. Once in a deal, there is no redemption option or standard opportunity to sell your interests. There are elements of the partnership agreement that permit certain transfers, but such transactions are limited, not guaranteed, and complex. Of note, private real estate investments have an implied return premium to compensate investors for the illiquidity of the investment.
Also, for most opportunities there are no taxes at the partnership level (meaning each partner reports on their personal tax return their share of the partnership's income or loss). We provide you with a Schedule K-1 form for each tax year, and these statements are typically provided in the first quarter of the following year.
Finally, you need to remember that not every investment firm will offer what we can. As mentioned above, we are transparent. You get to choose specifically what properties you invest in and have direct access to the people who manage your money. Our fee-light structure is a key differentiator that helps protect your returns. Our primary compensation comes on the back end of our investments, once we have achieved certain performance hurdles for our investors and our performance fee (also known as carried interest) takes effect. And lastly, we believe in aligning our interests with our partners—we contribute a significant amount of our own money into every partnership—and our funds are treated just like yours. (To learn more about how our private real estate investments are structured, read our blog here.)
If you're interested in how to partner with us, schedule an appointment with us to build your wealth with our help.
*All investments involve the risk of potential investment losses as well as the potential for investment gains. Prior performance is no guarantee of future results, and there can be no assurance, and clients should not assume, that future performance will be comparable to past performance. Metrics updated as of June 30, 2023.