Not every real estate investment and development firm is created equally. Some are too small, so they often charge exorbitant fees or have very basic controls in place. Others are so big that investors feel like they get lost in the fray. Fortunately, there are some firms that are just right—like JLAM.
What makes us so unique? One thing is our process. Here's how JLAM's real estate investment and development process works—and why it's such a big advantage to investors looking for private real estate investments.
How we discover opportunities
Our managing principals, Nick Hammonds and Doug Motley, have spent their whole careers working together. They have two decades of experience in real estate investment and development. They dedicate their careers to finding and developing the best opportunities in the mid-Atlantic region and beyond. When they decided to start their own firm in 2011, they wanted partners they could trust. Jack Lingo has been a trusted name in the Delaware real estate industry since 1974. The opportunity to form Jack Lingo Asset Management was presented, so Hammonds and Motley were glad to become a part of the Lingo family.
Throughout their careers, Hammonds and Motley have developed—pun intended—an extensive network of contacts. This relationship network is further enhanced by the vast relationships across the Lingo enterprise. Their collective track record of closing on transactions and being a trusted counterparty in buying and selling keeps them top-of-mind for sellers and brokers. Therefore, their connections constantly provide them with new and interesting opportunities. Their experience provides them with the vision to see opportunities in deals others may pass on. Conversely, they also assess risks others cannot.
Access is critical, but evaluation is an equally important component of the process. With the benefit of investing across multiple market cycles, they refined a sophisticated evaluation process that helps JLAM determine whether to move forward or not on an investment. This starts with our deep understanding of product-market fit. In addition, we analyze micro- and macro-market dynamics, identify and align with key partners to elevate the project potential, and conduct in-depth financial analysis and risk assessment. All of this is done with the keen eye to see where value (what you get) substantially exceeds price (what you pay).
If an opportunity passes all our criteria, then the opportunity moves to the next step in our process.
Our process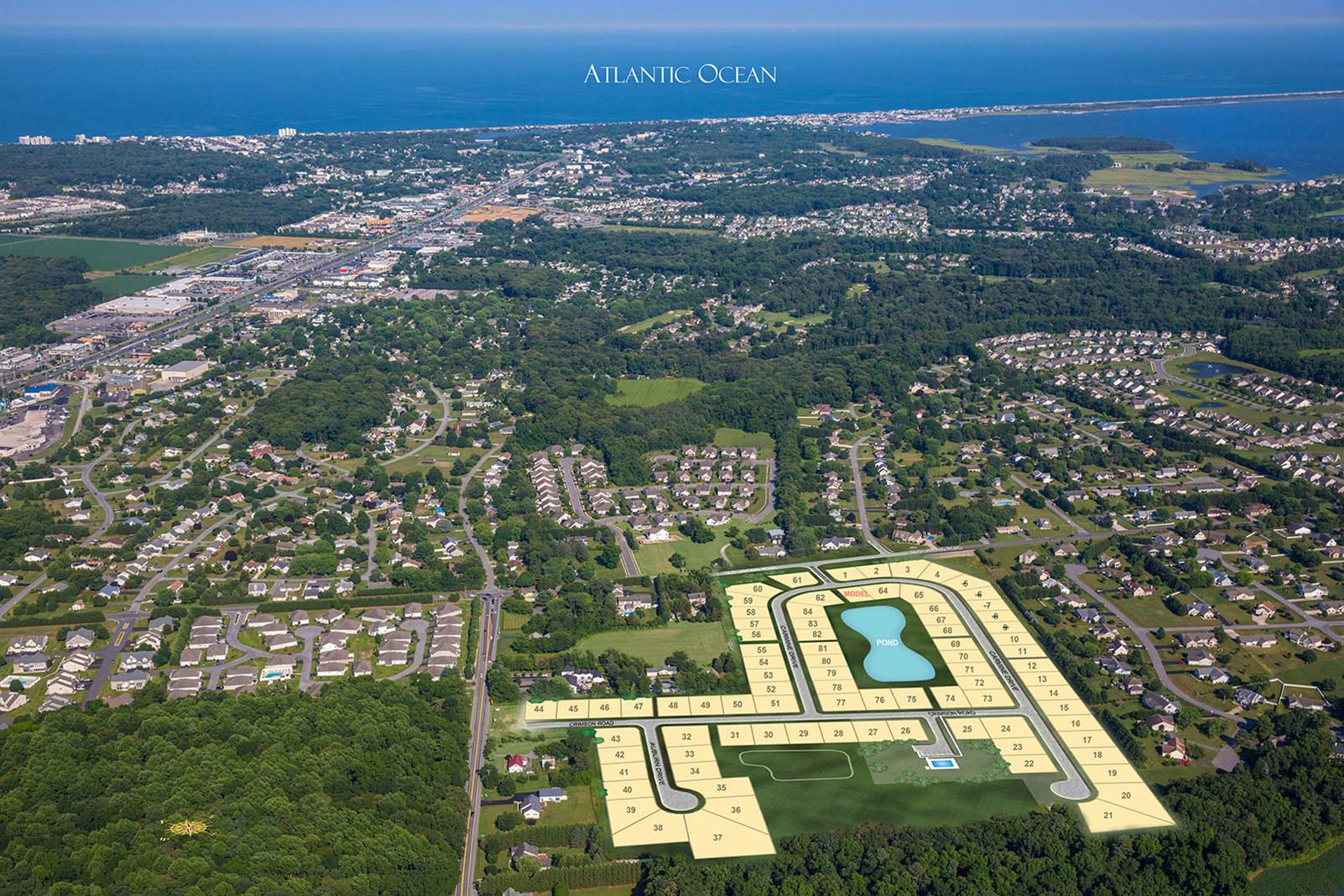 Now that we have an identified opportunity that has passed our initial screen, our acquisitions team collaborates with our project management team. The scope of this work varies depending on the type of deal. However, for each – including for-sale, for-rent, and commercial projects – the project management team is conducting a comprehensive due diligence program, plan review, and budget refinement process. We frequently find this process results in further adjustments to the project design, programming, or product offering. This collaborative system helps refine our projections, decrease cycle time, and ultimately reduce uncertainty and derisk the transaction for our investors.
Why spend so long differentiating assets?
One of our fundamental philosophies is that we create places people want to be. To achieve this, we spend a great deal of time ensuring our projects have unique and valuable amenities. This philosophy is deliberate—and benefits our investors, homeowners, residents, and tenants.
Our approach here is best described by the principles of a flywheel – how our philosophy translates into investment returns. At its core, we harness the immutable psychology of people. People make decisions and apply value to where they live and work based on conscious and unconscious feelings. By understanding these feelings, we create value propositions for our projects that, when compared to available alternatives, command a premium sales price or rent. This reduces sales or rental friction and allows us to keep occupancy rates high or sell out projects quickly, which in turn delivers outsized returns for our investors. Our track record of success positions us as a favored buyer for the best opportunities, that, in turn, provide beautiful canvases for us to create another place where people want to be.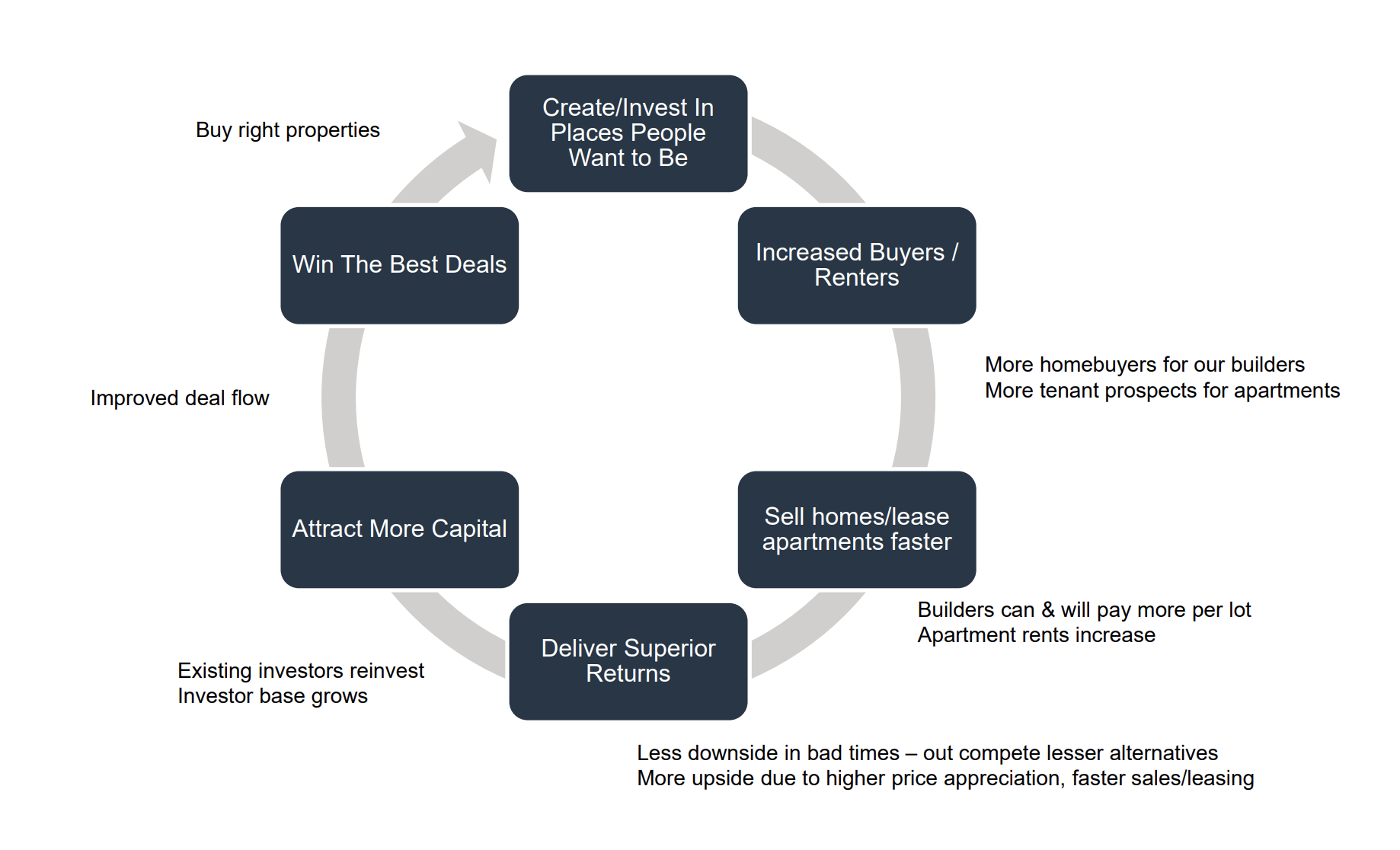 For more on our flywheel concept, check out our The Flywheel and Real Estate Investment Return blog.
The JLAM way of project delivery
At this point, we have a fully scoped, evaluated, and capitalized project and our real estate investment and development process shifts from evaluation to execution. The project management (PM) team is now responsible for:
Given the intricate processes associated with each agency, having experience, relationships, and systems to navigate these requirements is extremely important. We have seen many projects get held up for months because developers lacked the know-how to satisfy the requirements.
Once underway, the PM team has a wide range of responsibilities, including:
These are just a few examples of what JLAM's PM team does during the project lifecycle to ensure a successful project delivery.
What is our typical investment duration?
Our lean and agile team operates with flexibility, enabling us to capture opportunities in changing market environments. We understand unique and exciting opportunities aren't all the same. Since we handle commercial, for-rent, and for-sale properties, there is no one-size-fits-all. The investment duration is tailored to the specific size and nature of each project, as well as market conditions. While each investment and associated business plan have unique target durations, the typical target lifecycle and return profiles are illustrated in the graphic below.
If I invest, how is my money handled?
An essential part of how JLAM's real estate investment and development process works is our accounting team. JLAM has invested heavily in the systems, processes, and people that make up the integral foundation of our accounting function. We paired the latest institutional-quality technology with meticulously designed controls developed by our expert team to efficiently deliver a top-quality financial system.
Our accountants carefully monitor all monetary transactions, partnership cash flows, and all investor contributions and distributions. We closely control all property-level expenditures and ensure revenues reconcile. Our team also works closely with specialized external advisors to continuously identify tax efficiency opportunities across our projects and partnerships. Each step is a critical component of our method of maximizing value for our investors.
The infrastructure and processes we have put in place also enable us to continuously monitor investment performance and update financial projections for every investment. These enhanced analytics, coordinated by our accounting management team, then feed into our investor reporting portal – turning internal data into useful performance updates for our investors.
How do investors stay informed?
Regardless of the investment type, we send monthly and/or quarterly updates to our partners. These updates include your account summary (including contributions, distributions, and transactions). Additionally, we provide our investors with an online portal that gives investors access to prior emails, tax returns, distribution notices, capital call notices, etc. Investors can review their account values and reference all communications, and the portal provides excellent transparency 24/7, whenever they need it. Each investor retains full access to their investment history and investment performance. On a quarterly basis, we also publish a net asset value statement (NAV) for each investor. These statements provide a fair value-based valuation of each position an investor holds, reflecting changes in market conditions and specific asset performance.
Why is this exclusive to JLAM?
Our team has both institutional and entrepreneurial experience. This unique experience mix helped us identify institutional processes that we liked, but provided the vision for us to re-shape them where necessary to deliver the same benefits in a nimbler environment. For instance, investment underwriting and corporate accounting are two major areas where we implemented procedures based on our time in big business. However, we also recognized some of the weaknesses that exist with larger real estate development firms. To keep our team agile, efficient, and flexible, we purposefully built a lean organization that pairs excellent people and process without bureaucracy.
How JLAM's real estate investment and development process works involves a series of meticulously designed activities, but it has enabled us to consistently create truly special, inspiring places—places people want to be. This is how we deliver unrivaled results for our investors, because satisfied residents and tenants drive investor returns.
If you're interested in growing your portfolio with private real estate investment, schedule an appointment to build your wealth with our help.
Schedule a call
If our approach sounds interesting, reach out here by filling out the form to schedule a call to talk about how our approach can work for your investment portfolio.